I am perplexed, I thought that I had journal ed the event of Zeke's Birth. I cannot find a record of it anywhere. Weird huh?
So that must mean, I never wrote it down (shame on me)
I have been mentally planning and preparing for this new baby, I have all the physical needs met, plenty of baby clothes, and the Birthing kit is ready to go. All I need to do now is make freezer meals. (although space in the freezer is necessary)
So I will try to put down in writing what I remember from 2+ years ago when our little chubby lover,Ezekeil was born.
In my prior experience I have always birthed 2 weeks early, with the exception of Rubi who was an induction. Stress levels were high then and I was not about to labor while in a state of major anxiety.
I spent time researching & reading all about home birth, as my dream was about to come true. I remember after giving birth to Abigel, our 2nd I did not want to ever be at the mercy of the hospital staff again, I was miserable and had a terrible time (labor was 12+ hours long)
With subsequent births I had not prepared far enough in advance to feel confident in my abilities to birth at home. but baby #5 was my golden ticket. I had found a home birth midwife while living in Alaska, and had made out my mental plan of what was going to happen (incidentally it happened almost exactly as I had imagined)
When we moved from Alaska I was not worried, I knew I would continue with the plan of having a home birth,and I prayed that the resources I needed would present themselves.
Being frugal (read:tightwad) I searched out a midwife who would be willing to barter services for services, I traded the creation of a web page for the birthing services.
I found a nice lady (named Dee) who needed this and we made a decent go of the trade.
I am a hands-off person, I would rather the fewer people touching me the better, and I had issues with her invasive approach. I felt at times I was teaching her about natural, god intended birth, and was getting aggravated with her lack of experience (as far as natural birth goes)
I wrote out my birth plan and shared it with her and the others who were to attend my birth.
""here is a copy of the Birth Plan""
-------------------------------------------------------------------------------------
Birth Plan for: Dee Gordon & baby Boy Gordon.

It is my desire to labor independently and without intervention for as long as possible, I would like to have minimal vaginal exams and fetal monitoring.
It is my wish that the environment be as quiet as possible, with speaking refrained, and instead writing notes to labor helpers.
I would like the lights dim, and soft music playing in the room.
I would like to walk, move, bathe, and have freedom of movement during the entire process.
It is my hope that Wes will be my main support, having private time alone with him, throughout the labor and birth.
I would like to have gentle suggestions offered only if I seem unable to calm myself and need reminders of things I can do to flow with the process.
I plan to eat and drink, as I feel necessary throughout the labor and birth.
Some of the coping strategies I plan to use are: Singing, bathing, rocking, humming, walking, resting on a birthing ball, squatting, sitting on the toilet.
It is my plan to get into water anytime I need to relax, with water at body temp.
It is my plan to deliver the baby with Wes's help in the water.
It is my plan to allow Abigel to cut the cord if she feels OK with this.
I plan to have Ashley Dodge as support for the girls during labor and birth.
My plan is to call Ashley upon initial labor onset, and to call Rebecca Woods to notify her of my status.
My plan is to have Dee the midwife called when labor is imminent, and/or I feel the need to have extra support.
My plan is to only have vaginal exams done by Dee Dibal when I request them, and when I feel the need to be checked.
It is my plan to support my own perineum, and use pressure to counter the labor waves.
If I need stitches I will appreciate a local anesthesia, but do not anticipate needing stitches.
I plan to breastfeed exclusively, and will allow the baby to latch on as soon as he is cleared and ready.
If I am birthing in the tub, at this time I will want to girls to be able to say hello to their new baby, and then allow Wesley and I to have alone time while baby is suckling and relaxing. (During which time I anticipate the placenta will be delivered, and can be disposed of however Dee Dibal sees fit.)

I understand that birth is a unique process and that some times a plan needs to be altered, I am not afraid of altering my plans, yet I am willing to listen to my body, and allow the natural flow of life to lead me to the most peaceful and comfortable birth possible
--------------------------------------------------------------------------------------
I labored at home from apx. 6-9 p.m. sitting on the birthing ball and breathing yogic breaths. I fell asleep in my bed around 10 p.m. I awoke around 3 a.m. (I called Ashley then and let her know it was no turning back now) and felt the need to get in the bath, I ran a bath and soaked dozing and resting until apx 5 a.m. I woke to the transition urges of barfing and grunting.
I pounded on the wall of the tub letting my family know I was needing support, as made entered the bathroom I gave her the instructions on who to call. (Ashely, Rebbecca Woods, and midwife)
I then slipped on my nightgown and took some time to get into the van, Wes & Madi loaded the girls into their seats and I stood on the floor in the back of the van, the pain of sitting was too great.
We arrived at the Wood's home around 6:45 a.m. It took allot of control to walk up the 13 steps to get to the master bathroom. The tub was ready for me and I sank into the warmth and immediately felt relief from the intense contractions.
We arrived just 10 min before Ashley and when she came everyone seemed concerned the midwife was not gong to make it, they were worried and discussing what they would do with the cord and how to cut it and care for it. I was deep in concentration but felt irritated that it was such an issue, and tried to let them know it was not going to be a problem. (worse case scenario, you birth the placenta and leave baby attached until you have proper supplies to tie it off)
I needed Wes's support on my lumbar region and he got in the bath (fully clothed) and held the tennis balls against my back. It felt good, but then it was time to push, and I was grunting and moaning.
I felt the urge to get onto my feet, in the tub it was a trick, but when I turned sideways in the bath it was the perfect distance to use my legs to push my self off my bottom.
I had an instinct take over when it was time to push (my first experience with this) and I pushed through a little less than 3 contractions and the chubby monster was born. In the water and into my hands. It was such a euphoric experience, I have never felt so liberated and strong. I had my "Rocky Balboa" feeling High and so happy.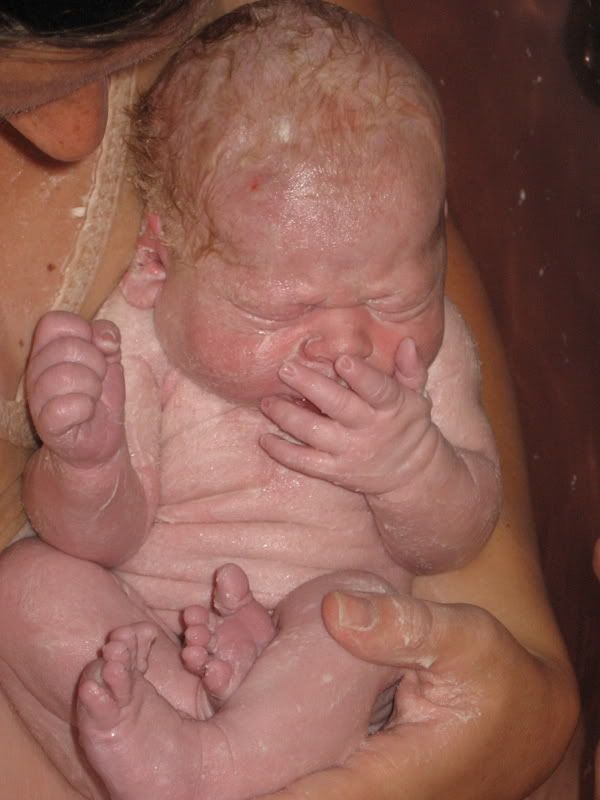 My mom got the first flight out and was able to be with us when Zeke was only a few hours old.
I am so pleased with the support and love I felt, Wes was AMAZING, and he filled every need I had during the birthing process.